Where We Build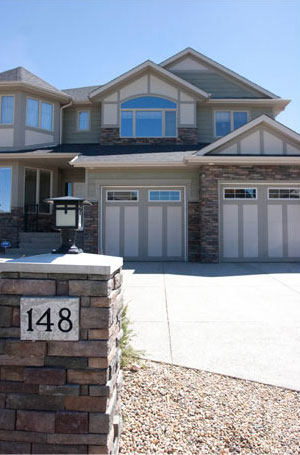 The right home, at the right location
A sub-standard community undermines many quality homes. At Kunz, we take the time to help buyers find the right community for their home. Kunz is aligned with Alberta's best developers, so our communities provide long-term value for buyers. We work with our developer partners to ensure drainage, architectural guidelines and environmental considerations like soil erosion, are dutifully considered throughout all phases of the building process. Our developer partners put a little more time and attention into their communities. And it shows.
Nolan Hill Calgary
The Kunz Group is building custom homes in the four phases of the prestigious Nolan Hill Subdivision in NW Calgary.
Nolan Hill is one of the most active subdivisions in the city of Calgary, one of Alberta's most dynamic and vibrant communities. Set amid the rolling hills of Calgary northwest, Nolan Hill recalls British Isles character of days gone by right down to the castle-ruin entry features. Yet with abundant park space and nearby shopping, schools and recreation, Nolan Hill offers a modern, family-friendly lifestyle that combines the best of both worlds" old and new.
Cimarron in Okotoks
Amenities list
Public Schools

Big Rock Elementary School
Dr. Morris Gibson Elementary School
Percy Pegler Elementary School/Ecole Francophone D'Okotoks
Okotoks Junior High School
Foothills Composite High School/Alberta High School of Fine Arts

Separate Schools

Good Shepherd Elementary School
St. Mary's Elementary School
John Paul II Collegiate Junior High School
Holy Trinity Academy

Recreation Centres

Okotoks Recreation Centre
Foothills Centennial Centre

Parks

Sheep River Park and Pathway System
Kinsmen Park
Riverside Park

Churches

St. Peter's Anglican Church
St. James Catholic Church
Church of Jesus Christ of Latter-Day Saints
Evangelical Free Church
Holy Cross Lutheran Church
Okotoks Alliance Church
United Church of Canada
Along with many amenities, Cimarron is also only a few minutes walk from the largest shopping centre in Okotoks.
The Kunz Group is proud to be part of the this exciting family friendly community. A community that is well established and comes ready to wear with everything a family needs... a great place to call home.
Before we discuss the details of a buyers home, we like to work with them on lot selection. Our counsel and advice can prevent the awkwardness of the right home on the wrong lot. We steer buyers to lots that satisfy their unique requirements.